Really cool event took place at Kyle Farms last month!
Twelve shearers from all over the country (Aaron Loux - Massachusetts, Emily Chamelin - Maryland, Rick Jones - Pennsylvania, Dave Shoemaker - Pennsylvania, Mike Horton - Pennsylvania, Kirk Coons - Pennsylvania, Doug Rathke - Minnesota, Sy Caryl - Michigan, Matt Kyle - New York, Chad Swartz - New York, Jim Bristol - Michigan, George Bancroft - New York) came together to shear over 1000 ewes at Kyle Farms on December 17th to raise money for the Farmer Veteran Coalition.
1149 ewes were shorn in a little over 6 hours. All shearers donated the shearing fees to the Farmer Veteran Coalition as well as asking for donations from local businesses in their areas. If you happen to use one of these shearers be sure to give them a big thank you!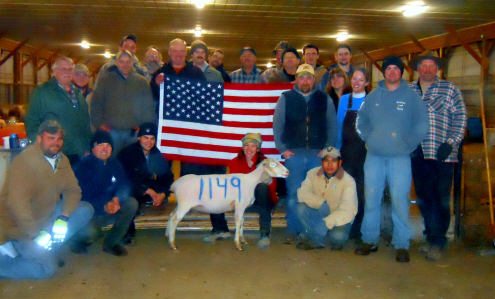 More photos of the event can be seen at ASSC Shearing Event Slideshow
Article in the Lancaster Farming
Tags:
Posted by Anne @ 08:19 PM EST