Beef Products Inc., the maker of "Pink Slime" suspended operations last Monday at all but one plant where the "lean finely textured beef (LFTB)" or "boneless lean beef trimmings" are processed, acknowledging current public backlash over the product has cost the company business.
Following the suspension of operations at the plants, members of the media and leaders that included Governors from meat-producing states were invited to tour the facilities in an attempt to repudiate what they called "inaccurate information" that they claimed as having caused "an unnecessary panic among consumers." The publicity tour emerged with the promotional slogan, "Dude, it's beef!"

Texas Gov. Rick Perry said after the tour "Let's call this product what it is and let 'pink slime' become a term of the past," after which officials showed off t-shirts swith the slogan, "Dude, it's beef!"

"I think a big part of the campaign problem has been the other side has had a catchy name," Kansas Governor Sam Brownback said. "I hope, 'Dude, it's beef,' catches on because that's what this is. Dude, it's beef."

Well, we beg to differ and in response to this, The Mohawk Valley Trading Co. has partnered with custom t-shirt printer Crooked Brook to sponsor a "Dude, It's Not Beef!" T-Shirt Giveaway.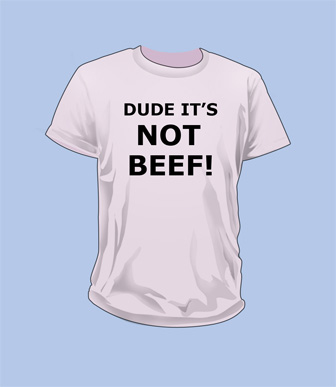 This white, 6.1 oz., 100% cotton t-shirt is printed with Direct to Garment printing (DTG) technology which uses eco-friendly, water soluble ink that bonds to the molecules of the fabric, unlike most screen printing which layers Plastisol (a suspension of PVC particles in a plasticizer) on top of the t-shirt. DTG allows photographic quality printing with no setup fee or minimum you can order as few as one custom t-shirt.

The winner will be chosen randomly, from those who post a comment with an answer to this question;

What do you think about "Pink Slime"?

Terms & Conditions:

You must be 18 years or older to win.
Contest ends midnight (Eastern Standard Time) 04/08/12.
Winner will be chosen randomly and contacted by email.
Winner will have 48 hours to reply or a new winner will be chosen.
Crooked Brook will ship the prize to the winner within 30 days of contest end.
Physical address required for shipping; no PO boxes, US recipients only residing in one of the 48 contiguous states.
Tags: