To celebrate the first week of her blog The Vintage Hen and the revamped HenCam, professional cook, food writer and animal lover, Terry Golson is hosting a Barred Plymouth Rock t-shirt giveaway sponsored by custom t-shirt printer Crooked Brook. The contest will close on Saturday, June 2 at 9 pm EDT.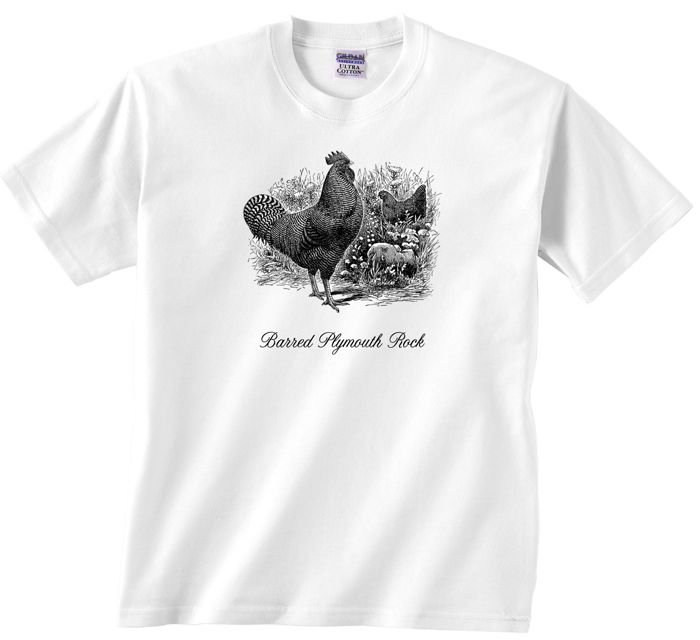 Terry Golson has always loved animals, and animals have always loved her. When she was five, she was given a guinea pig. When she was ten, a dog adopted her, and about a year later a cat jumped out of the woods and followed her home. For awhile, Terry rode horses for a living. But, she didn't get her first chicken until about 15 years ago, when a neighbor gave Terry a little hen named Buk-Buk. Terry has had a flock of hens ever since.
Terry has been a professional cook and a food writer. She has written for numerous publications, including The Boston Herald, and Cooking Light Magazine. In 1990, Terry's first cookbook, For Goodness Sake was published. It was a James Beard Award nominee. Later came Wholehearted Cooking and then 1,000 Lowfat Recipes. The Farmstead Egg Cookbook was published in 2006.
One special hen inspired Terry to create her first children's book, Tillie Lays an Egg. The animals continue to give Terry ideas. More children's books are in the works.
Terry maintains a live-streaming webcam on her flock of hens and on her pet goats. She also blogs about the goings-on at her Little Pond Farm (which is really just a big backyard!) Terry has been called a "chicken celebrity" and has become a well-known advocate for backyard poultry keeping.
Terry lives in a small town west of Boston with her husband, two sons, two dogs, a rabbit, two small goats, numerous (and rather unattractive) koi, and a small flock of hens. Watch a video of Terry and her chickens on the Martha Stewart Show and on NECN. Terry visits libraries and schools (with a live hen!) - check the Appearances page to see where she'll be next, and go to Contact Terry to schedule a visit to your school.
Golson has made numerous appearances all over the country, in settings a low key as a library ranging to places as renowned as The Martha Stewart Show.