In our effort to support and promote sustainable agriculture, local, small and family owned farms and other local food sources; we asked our friends at Crooked Brook to sponsor a custom polo shirt giveaway with the winner's business name embroidered on the left front chest as the prize.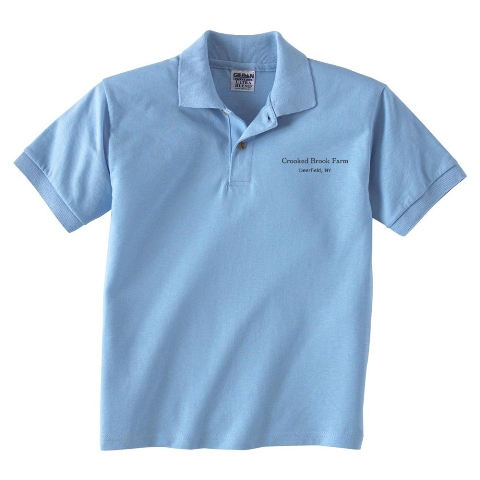 Polo shirts are another inexpensive yet cost effective marketing tool. More casual than button-front shirts and dressier than t-shirts, embroidered polo shirts are part of the uniform for many businesses. Polo shirts embroidered with company logos that are given as gifts or giveaways are called promotional polo shirts and are great way to get your name out there and build awareness about your goods or services.

These are first quality, polo shirts from Crooked Brook's inventory and the brand and color will be determined by what Crooked Brook has in stock at the time the winner is announced. Crooked Brook will try their best to send winner's a polo shirt as close to their request as possible.

Please Note: The winner has the option of getting the polo shirt blank or with their business name embroidered on the left front chest (as pictured). If the winner would prefer to have their logo embroidered instead, that would have to be discussed with Crooked Brook.

The winner will be chosen randomly, from those who post a comment with an answer to this question;

What is the name of your business, town or city and state?

Terms & Conditions:

You must be 18 years or older and a member of the LocalHarvest Community to enter.
Contest ends midnight (Eastern Standard Time) 06/11/12.
Winner will be chosen randomly and contacted by email.
Winner will have 48 hours to reply or a new winner will be chosen.
Crooked Brook will ship the prize to the winner within 30 days of contest end.
Physical address required for shipping; no PO boxes, US recipients only residing in one of the 48 contiguous states.

About Polo Shirts

Polo shirts are also called "polos" or tennis shirts and they became so popular on golf courses, people started calling them golf shirts. Although the words "polo shirt" and "golf shirt" are used interchangeably, the term "polo shirt" is more popular.In the sport of polo, polo shirts are called polo jerseys.

There was a time when a polo shirt was just a polo shirt.

Today, almost every major apparel brand offers a line of polo shirts. Some high-end brands offer polo shirts in high-performance fabrics, knitted silk, merino wool or other fabrics.

Men's polo shirts are now available in what were once considered women's colors and women's polo shirts are no longer smaller versions of men's, with silhouettes made specifically for a woman's figure.

With all of the different brands, styles, profiles, fabrics and colors of polos to choose from, there is a polo shirt for everyone's taste and price point. However, to keep their prices low, many companies that offer custom polo shirts limit the choices to the cheapest ones available.
Custom polo shirt prices are determined by the brand, quantity, style, size, complexity of the logo or design and method of customization.

About Logos

A logo is a graphic mark or emblem commonly used by commercial enterprises, organizations and even individuals to aid and promote instant public recognition.
It is one of the most visual expressions of your company's identity.

That is one reason logos are so important for creating a lasting impression of your business, product or services in the minds of everyone exposed to it.


Posted by Betty @ 12:33 PM EDT