The Andalusian is a breed of chicken originating in the Andalucia region of Spain. Often called the Blue Andalusian for the color accepted for showing by the American Poultry Association, they also appear in Splash (mottled) and Black. They are classified as "Mediterranean" chickens, and like other breeds from this class, they are closely feathered, active, and good layers of white eggs. Although the only color pattern recognized by the American Poultry Association is Blue, when you cross two blues you will get some whites and some blacks. Because of this, they are relatively rare except amongst poultry enthusiasts and small backyard flock owners interested in preserving heritage breeds. These rare egg laying chickens lay up to 160 eggs per year.

The Mohawk Valley Trading Co. has asked Crooked Brook to do the t-shirt printing for Blue Andalusian t-shirt giveaway 1.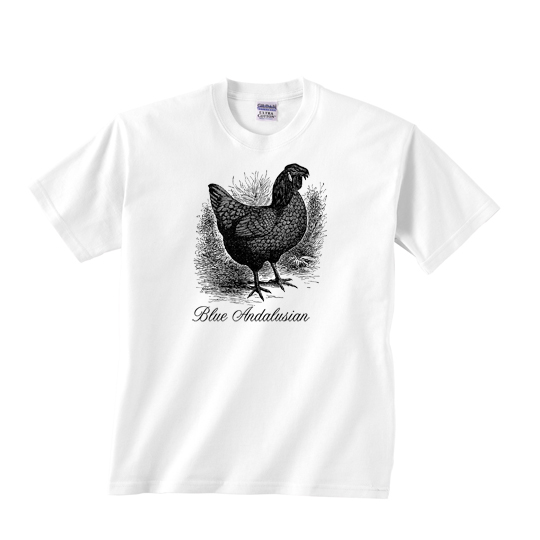 This t-shirt is a white, Gildan, G200 6.1 oz. Ultra Cotton® T-Shirt made in 100% preshrunk cotton, taped shoulder-to-shoulder with a seamless collar and double-needle stitching throughout and the image of a Blue Andalusian printed on the front.
Crooked Brook t-shirts are printed using Direct to Garment Printing (DTG printing or digital garment printing) which is the process of using inkjet printers to print an image directly onto a t-shirt without the use of screens like with silk screening or screen printing. Direct to Garment printing (DTG) technology uses eco-friendly, water soluble ink, unlike some screen printing methods that layer Plastisol (a suspension of PVC particles in a plasticizer) on top of the t-shirt. DTG allows photographic quality printing with no setup fee or minimums for custom t-shirts.

The winner will be chosen randomly, from those who post a comment with an answer to this question;

What breed of chicken would you like to see for the next t-shirt giveaway?

Terms & Conditions:
You must be 18 years or older to win.
Contest ends midnight (Eastern Standard Time) 05/10/12.
Winner will be chosen randomly and contacted by email.
Winner will have 48 hours to reply or a new winner will be chosen.
Crooked Brook will ship the prize to the winner within 30 days of contest end.
Physical address required for shipping; no PO boxes, US recipients only residing in one of the 48 contiguous states.

The t-shirt evolved from undergarments used in the 19th century, through cutting the one-piece "union suit" underwear into separate top and bottom garments, with the top long enough to tuck under the waistband of the bottoms. By the Great Depression, the t-shirt was often the default garment to be worn when doing farm or ranch chores, as well as other times when modesty called for a torso covering but conditions called for lightweight fabrics.
T-shirts, with and without buttons, were adopted by miners and stevedores during the late 19th century as a convenient covering for hot environments.

T-shirts, as a slip-on garment without buttons, originally became popular in the United States when they were issued by the U.S. Navy during or following the Spanish American War. These were a crew-necked, short-sleeved, white cotton undershirt to be worn under a uniform. It became common for sailors and Marines in work parties, the early submarines, and tropical climates to remove their uniform "jacket", wearing (and soiling) only the undershirt.

Named the t-shirt due to the shape of the garment's outline, it soon became popular as a bottom layer of clothing for workers in various industries, including agriculture. The t-shirt was easily fitted, easily cleaned, were made in various colors and patterns and inexpensive, and for this reason it became the shirt of choice for young boys.

In comparison to screen printed garments, DTG printed garments can be just as durable and more eco-friendly. Screen printing also requires a lot of setup ie. creating screens for each color. The only thing Direct to Garment Printing (DTG) printing requires is for the image to be high resolution.


Tags: