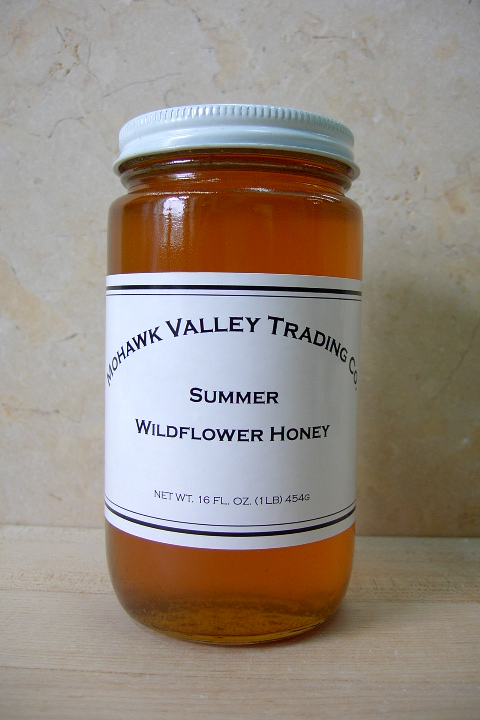 This is a review of our Summer Wildflower Honey by Honey Like No One Else:

Floral Source: Various summer wildflowers
Region: West Canada Valley & Mohawk Valley regions of Upstate New York
Strength of Flavor: Medium

Wildflower honey may be a pretty general name for a type of honey. However wildflower honey can vary greatly depending upon where those wildflowers grew. It also can depend upon the time of year. A summer widlflower honey can taste different than an autumn wildflower honey. I love trying different types of wildflower honey from all other the world from all different seasons. The lastest one to meet my taste buds is a summer wildflower honey from Mohawk Valley Trading Company.

This honey has the distinct floral flavor you expect from a wildflower honey. It's refreshing. It has that fresh summer taste believe it or not. I used it recently on top of some roasted Brussels sprouts. It helped bring that dish alive. This is a good multi-use honey to have on hand.

To find out more about their honey, including how to purchase some for yourself, visit the Mohawk Valley Trading Company website. Or you can e-mail them at info@tenonanatche.com or call them at 315-519-2640.
Honey Like No One Else is a blog Eric who lives in Saline, Michigan with his wife (Donna) and two daughters, Hannah (4) and Autumn (1). He has been enjoying varietal honeys ever since he first tasted orange blossom and avocado blossom honeys during a trip to California in 2011. He started up a separate blog from his main blog Eat Like No One Else to share his passion for great tasting honey and the stories behind them. At Honey Like No One Else you will find interviews with beekeepers, reviews of honeys, recipes, and sources to buy honey. He is planning on taking all this research and turning into an e-book.

About our Raw Wildflower Honey

Wildflower honey, also known as polyfloral honey, is derived from the nectar of numerous species of flowers or blossoms. The taste, aroma and flavor will vary from season to season, depending on which flowers are dominant at the time the nectar is collected.

Raw wildflower honey is often used by pollen allergy sufferers to lessen their sensitivity to pollen by eating 1 to 2 tsp. of it each day. The idea is that by introducing small amounts of pollen into their system by eating raw honey, a tolerance to pollen allergens is built up.

If you are planning to buy wildflower honey for its health-benefits, it must be raw wildflower honey. Heating honey (pasteurization) destroys the all of the pollen, enzymes, propolis, vitamins, amino acids, antioxidants, minerals, and aromatics. Honey that has been heated and filtered is called commercial, liquid or regular honey.

The reason some honey is heated and filtered is that the majority of Americans prefer the convenience of being able to spoon, pour or squeeze honey from a bottle onto their cereal or into their tea.

In addition, commercial honey is clearer, easier to measure or spread than raw honey and many people think that honey that has crystallized is spoiled so they discard it. Honey that has been heated and filtered will not crystallize as fast as raw honey.

Although we specialize in raw wildflower honey, we also offer liquid wildflower honey for those who prefer it.

Our raw wildflower honey is unheated, unpasteurized, unfiltered, unprocessed unblended and in the same condition as it was in the hive. It is used and endorsed by one of by the world's most recognized chefs Tom Colicchio; founder of Craft and Colicchio & Sons restaurants and head judge on the Bravo reality TV show Top Chef.

Posted by Betty @ 11:45 AM EDT