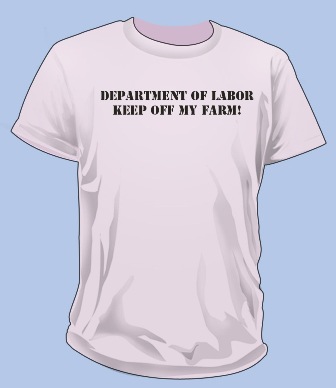 Under new legislation being advocated by the Department of Labor, kids under 18 would not be allowed to do many of the chores on their own family's farm or a neighbor's.

Under the proposed regulations:

Anyone under age 16 could not operate any power-driven machines unless the child was under the supervision of a parent or guardian.
Kids would be prohibited from handling non-castrated livestock older than 6 months, sows with suckling pigs or cows with a newborn calf. They also could not be in situations where an animal's behavior might be "unpredictable", such as giving shots, dehorning or breeding.
Prohibit young workers from "working from a ladder or scaffold at a height of over 20 feet".
Limit the exposure of young farm workers to "extreme temperatures and/or arduous conditions" (like snow, sleet, hail and rain, the hot sun, high humidity).
The list goes on.
Oh, and by the way, the proposal also calls for new penalties and fines as a means of enforcing the new regulations.

In response to this, The Mohawk Valley Trading Co. has partnered with custom t-shirt printer Crooked Brook to sponsor a ""Department of Labor, Keep Off My Farm!" T-Shirt Giveaway.

This white, 6.1 oz., 100% cotton t-shirt is printed using Direct to Garment Printing (DTG) technology which uses eco-friendly water soluble inks.

The winner will be chosen randomly, from those who post a comment with the correct answer to this question;

What are domestic pigs that have escaped and gone feral called?

Terms & Conditions:

You must be 18 years or older to win.
Contest ends midnight (Eastern Standard Time) 03/22/12.
Winner will be chosen randomly and contacted by email.
Winner will have 48 hours to reply or a new winner will be chosen.
Crooked Brook will ship the prize to the winner within 30 days of contest end.
Physical address required for shipping; no PO boxes, US recipients only residing in one of the 48 contiguous states.


Posted by Betty @ 09:38 AM EDT