The walleye is a freshwater native to most of the northern United States and Canada. It is also called the yellow walleye to differentiate it from the blue walleye, which is an extinct subspecies that used to inhabit the southern Great Lakes.

Although it is the state fish of Minnesota and South Dakota, more walleye is eaten in Minnesota than in any other state. Baudette and Garrison, Minnesota both declare to be the "Walleye Capital of the World," each with a large statue of a walleye.

In honor of the Sander vitreus (formerly Stizostedion vitreum), The Mohawk Valley Trading Co. has teamed up with Crooked Brook to sponsor a walleye embroidered polo shirt giveaway.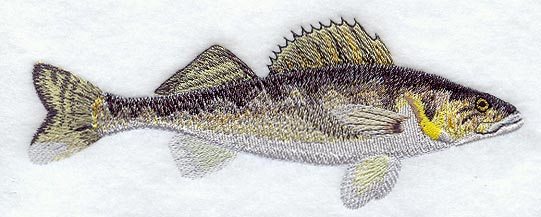 This is a first quality custom polo shirt with a walleye embroidered on the left chest. The brand, color, gender and size of the polo shirt will be determined by what they have in stock at the time the winner is announced. Crooked Brook will try their best to send winner's a polo shirt as close to their request as possible.

The winner will be chosen randomly, from those who post a comment with an answer to this question;

What color, gender and size polo shirt would you like to win?

Terms & Conditions:
You must be 18 years or older to win.
Contest ends midnight (Eastern Standard Time) 05/09/12.
Winner will be chosen randomly and contacted by email.
Winner will have 48 hours to reply or a new winner will be chosen.
Crooked Brook will ship the prize to the winner within 30 days of contest end.
Physical address required for shipping; no PO boxes, US recipients only residing in one of the 48 contiguous states.

Polo shirts are also called "polos" or tennis shirts and they became so popular on golf courses, people started calling them golf shirts. Although the words "polo shirt" and "golf shirt" are used interchangeably, the term "polo shirt" is more popular. Promotional polo shirts are one of the most popular promotional apparel items because they make great gifts and are an excellent way to build brand recognition and promote your business.