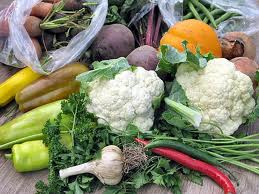 The Central Michigan CSA has been doing a CSA drop off in Midland Michigan since the program started. Our Midland CSA members actually make up around 1/3 of our membership many renew each year. We expect to begin pick ups again this year in late May or early June. The farm share pick ups usually start with asparagus and fresh Michigan strawberries.
We are currently enrolling new members for the CSA. If you live or work near Midland and you would like to learn more, I invite you to visit our farm website at http://www.michiganfarmfreshproduce.com Here are the details for the Midland CSA pick up location:
When: Wednesdays from 7:00 am to 12:00 pm
Where: The farmers market by the Tridge.
Who: Either myself, Kate or Charlie will be ready with your weekly shares.
We grow a great variety of veggies, fruits and melons and we have several share options to fit your family. We also have a farm fresh egg CSA that we deliver to the weekly pick up, you can learn more about that at our website as well.
We look forward to another successful year for our Midland CSA program members and are inviting a few new ones this years as well. If you want to learn more about our Midland Mi CSA visit the farm website, or feel free to contact me directly. centralmichigancsa@gmail.com