Hello All!
Hope everyone made it through the flood around here okay. We have been selling ALOT of eggs lately and have more hens on the way! We have had alot of people asking questions so we decided to put up a Frequently Asked Questions section on our FB page and our website. It is small at this point but we will be adding to it as we go. If anyone has any questions shoot us a PM or email and we will add them.
We are also holding steady on our 2.50 a dz for chicken eggs and 2.50 1/2 dz for duck eggs. Please call PM or text to see what we have on hand they go soooooo fast.
We had to once again change our logo as our egg cartons changed-AGAIN! Hopefully they will remain the same for sometime now.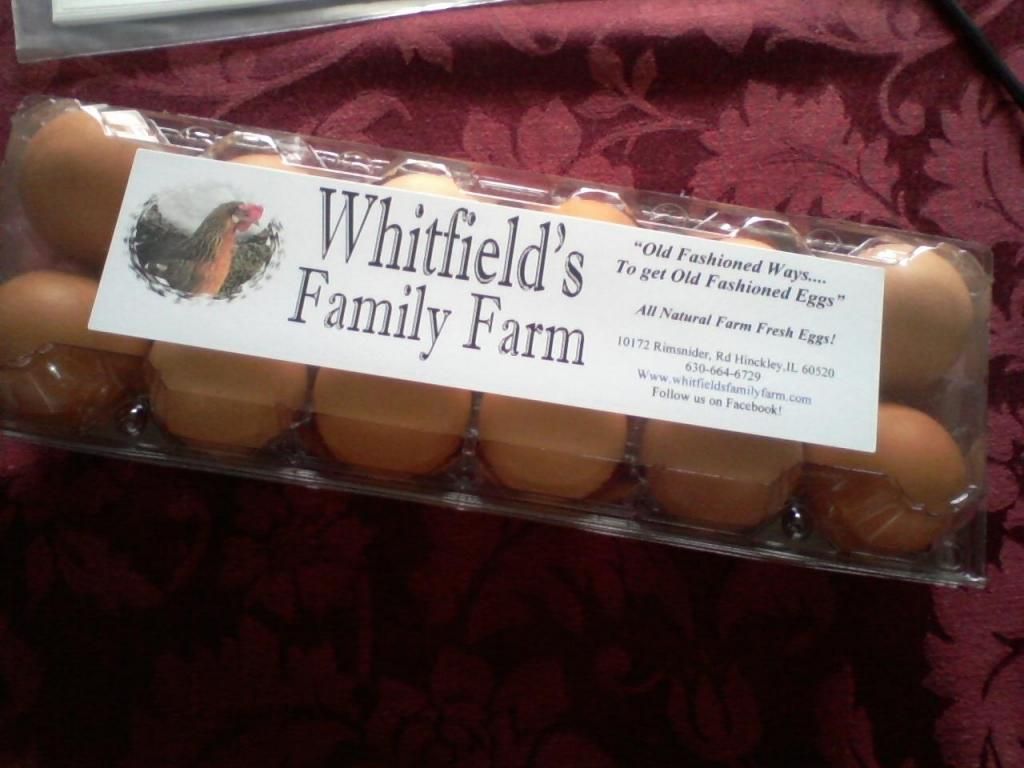 Here is a sample of our F.A.Q.
What is a 'Pullet', or 'Cockerel'?
A Pullet is a female chicken less than a year old, she then becomes a hen. A Cockerel is a male chicken less than a year old which at 1 year becomes a Rooster or Cock.
How long will eggs last?
Approximately 5 weeks as per USDA standards, they will actually last a lot longer. We put a 30 day expiration from the day our eggs are brought in inspected and packed as per USDA requirement.
When I hardboil your eggs they won't peel! Are they defective?
LOL! Nope! Here is how this works....when an egg is laid it has no air pocket inside of it. As the egg ages the shell draws in air (and anything else it can) into the egg. Now, being that our eggs are VERY fresh, they have a very, very small air pocket in them. You need this to peel the hardcooked egg. So...you can buy them and store them (the generally accepted time period is 12 to 17 days) then you will be ready to go. Or, you can buy the eggs out of the store which the average age of a store bought egg is 10 to 14 days.
Can I freeze my eggs?
While I have not done this myself as we NEVER have a surplus of eggs. There are a few of our customers that freeze theirs. They empty the eggs into ice trays and freeze them, then take them out of the trays and put them into freezer bags or freezer boxes.
Why don't you guys have a sign, or sell in the grocery store?
A. We have never needed one and B. We have (crossing fingers) never had enough eggs leftover after our customers to have enough to supply a store. We only want to get so large, if we ever do expand that far you will be the first to know.
What feed do you use?
We use a natural based diet, what that means is it is FREE from antibiotics, and commercial animal meat by products (No ground up animals) They are supplemented with REAL animal meat in small amounts from us, usually ground ham.
You feed chickens meat?!?!?
Yes we do! Chickens are not HERBIVORES, like cattle. They are OMNIVORES. Chickens eat mice, toads, frogs, and other chickens (trust me there I have seen it) It is part of their natural diet.
You have roosters in with your hens so our eggs are fertilized?
LOL! If it were only that easy....Our eggs are collected quite often usually about every 3 hrs more when it is very cold and very hot. The fact that we have a few protectors with our females does not change the eggs. In order for an egg to get to the point of a developing embryo it takes great care....or carelessness if you will.
Posted by Dean @ 08:54 AM CDT