For Custom Hoodie Hooded Sweatshirt Giveaway 1, our friends at Crooked Brook are offering a heather grey hoodie with an embroidered Dominique Chicken on the back.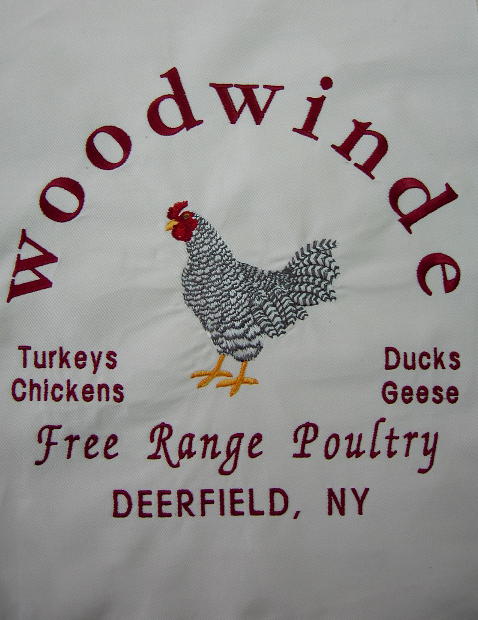 The winner can get this hoodie with just the Dominique Chicken, or with:

1. The name of your farm, ranch or business.
2. Town and state or URL.
3. Tag line or goods and services.

The above options are subject to approval by Crooked Brook.
The value of this hoodie, including shipping is $90.00.

The winner will be chosen randomly, from those who post a comment with an answer to this question;

What breed of live stock would you like to see for Custom Hoodie Hooded Sweatshirt Giveaway 2?

Terms & Conditions:

You must be 18 years or older to win.
Contest ends midnight (Eastern Standard Time) 05/24/12.
Winner will be chosen randomly and contacted by email.
Winner will have 48 hours to reply or a new winner will be chosen.
Crooked Brook will ship the prize to the winner within 30 days of contest end.
Physical address required for shipping; no PO boxes, US recipients only residing in one of the 48 contiguous states.

About The Dominique

The Dominique, also known as Dominicker or Pilgrim Fowl, is a breed of chicken (Gallus gallus) originating in the United States during the Colonial. It is considered America's oldest breed of chicken, probably descending from chickens brought to New England from southern England during colonial times. By the 19th century, they were widely popular and were raised in many parts of the country. Dominiques are a dual purpose breed, being valued for their meat as well as for their brown eggs. They weigh 6 to 8 pounds (2.7 to 3.6 kg) at maturity. In earlier times, their feathers were much sought after as stuffing for pillows and mattresses.

After the Plymouth Rock breed was developed from the Dominiques in the 1870s, the Dominiques' popularity declined, until by 1950 they were so rare as to be considered nearly extinct. During the 1970s, Dominiques were listed in "Critical" status by the American Livestock Breeds Conservancy, with fewer than 500 breeding birds in North America. However, due to a revival of interest in them and other rare breeds, the Dominiques have made a comeback and are now listed on the "Watch" list, indicating lesser danger of extinction.

About Hoodies

The origin of the hoodie goes back to the Middle Ages when the standard trappings for monks was a long tunic or robe with a cowl. The hooded sweatshirt as we know it today, was invented in the United States by Champion (an apparel manufacturer specializing in sportswear) in the 1930s and the word hoodie or hoody started to appear in popular culture in the 1990s.

Today, almost every major apparel brand offers a line of hoodies. Some high-end brands offer hoodies in high-performance fabrics, knitted silk, merino wool or other fabrics. With all of the different brands, styles, profiles, fabrics and colors of hoodies to choose from, it can be a bit overwhelming.

Whatever you do don't buy cheap hooded sweatshirts; they are thin, ill fitting, lose their color, shape and shrink excessively after the first wash.