In our effort to support and promote sustainable agriculture, local, small and family owned farms and other local food sources; we asked our friends at Crooked Brook to sponsor a custom hoodie giveaway with the name of the winner's farm, ranch or business embroidered on the left front chest as the prize.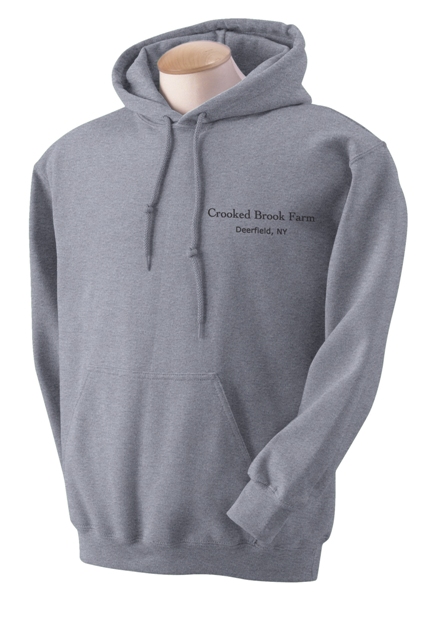 (Image for example only)

Hoodies or hooded sweatshirts were popular with people who worked outdoors, way before they became fashionable and were called hoodies.
Hooded sweatshirts embroidered with the logo or name of your farm, ranch or business is a way to identify employees and when given as gifts or giveaways they are great way to get your name out there and build awareness about your goods or services; it works great for us!

These giveaways are first quality, hooded sweatshirts from Crooked Brook's inventory. The brand and color of the hoodie will be determined by what they have in stock at the time the winner is announced. Crooked Brook will try their best to send winner's a hoodie as close to their request as possible.

Please Note: The winner has the option of getting the hoodie blank or with their business name embroidered on the left front chest (as pictured). If the winner would prefer to have their logo embroidered instead, that would have to be discussed with Crooked Brook.

The winner will be chosen randomly, from those who post a comment with an answer to this question;

What is the name of your farm, ranch or business, town or city and state?

Terms & Conditions:

You must be 18 years or older and a member of the LocalHarvest Community to enter.
Contest ends midnight (Eastern Standard Time) 06/13/12.
Winner will be chosen randomly and contacted by email.
Winner will have 48 hours to reply or a new winner will be chosen.
Crooked Brook will ship the prize to the winner within 30 days of contest end.
Physical address required for shipping; no PO boxes, US recipients only residing in one of the 48 contiguous states.
About Logos

A logo is a graphic mark or emblem commonly used by commercial enterprises, organizations and even individuals to aid and promote instant public recognition.

It is one of the most visual expressions of your company's identity.

That is one reason logos are so important for creating a lasting impression of your business, product or services in the minds of everyone exposed to it.

About Hoodies

The origin of the hoodie goes back to the Middle Ages when the standard trappings for monks was a long tunic or robe with a cowl. The hooded sweatshirt as we know it today, was invented in the United States by Champion (an apparel manufacturer specializing in sportswear) in the 1930s and the word hoodie or hoody started to appear in popular culture in the 1990s.

Today, almost every major apparel brand offers a line of hoodies. Some high-end brands offer hoodies in high-performance fabrics, knitted silk, merino wool or other fabrics. With all of the different brands, styles, profiles, fabrics and colors of hoodies to choose from, it can be a bit overwhelming.

Whatever you do don't buy cheap hooded sweatshirts; they are thin, ill fitting, lose their color, shape and shrink excessively after the first wash.






Posted by Betty @ 11:11 AM EDT